Jacek Zołociński, MSc.
President of LumiChem Sp. z o.o.
Founder of LumiChem Sp. z o.o.
Founded Hydrotecc, a company responsible for introducing and popularizing new technologies in infrastructure construction, in 2011. Hydrotecc's leading products are tecRoad – an ecological additive to bituminous masses, which significantly increases their flexibility and resistance to aging – and Eliminator – a stone mastic asphalt-based isolation coating that increases the service life of bridges several times over. Hydrotecc products are widely used in the construction and renovation of bridges, roads and highways.
Prior to founding his own company, Jacek gained experience working in Austria (1981-1995), where he was employed as a manager for the construction companies Stuag Ag and Ilbau GmbH. In 1995, he returned to Poland and worked as Technical Director for Ilbau Polska, Strabag Polska, Kirchner GmbH, Habau GmbH, and Bunte GmbH.
Since 2016, Jacek has been working on the TitanSolid project, initially as a sole proprietor and, currently, as President of LumiChem Sp. z o.o.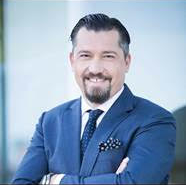 Bartosz Sosnowski
Shareholder and Board Member of LumiChem Sp. z o.o.
Founder of Smooth Ventures Sp. z o.o., a restaurant and food service company.
Between 2010 – 2019, Bartosz was heavily involved in Poland's trade fair sector. In 2017, he became a member of the Board of Centrum Targowo-Kongresowe Sp. z o.o., the company responsible for operating the GlobalEXPO Convention Center. In the years 2010 – 2017, Bartosz was President of MT Polska and steered the operations of one of the largest convention centers in Poland, located on Marsa Street in Warsaw.
He presided over many successful conventions during his tenure.
Through 2019, he served as Vice-president of the Warsaw Corporation for Conventions and Congresses and was Vice-president of the Program Committee at the Warsaw Tourism Organization. In his business career, Bartosz has stood at the helm of many companies, including state-owned companies.
He is a graduate of the SGH Warsaw School of Economics.